Sterren op het Doek
In het populaire televisieprogramma Sterren op het Doek wordt een bekende Nederlander in uiteenlopende stijlen geportretteerd door drie kunstenaars. Op het eind van het programma mag de BN-er zijn of haar favoriete portret mee naar huis nemen. De andere twee portretten worden geveild voor een goed doel.
In de uitzending van 20 november ontving Özcan Akyol de charismatische Jan Terlouw op kasteel Rijnhuizen in Nieuwegein. Een prachtlocatie! Hier heeft Jan Terlouw aan het begin van zijn carrière als onderzoeker in de fundamentele natuurkunde gewerkt. In het interview met Özcan vertelde deze veelzijdige wetenschapper, politicus en schrijver over het begin van zijn schrijverschap en de bijzondere band met zijn vrouw.
Met medekunstenaars Pauline Koehorst en Sophie Vrolijk was ik ter plaatse om hem te bestuderen en in het bijzijn van alle camera's in schetsen te vangen. Dat was nog wel even lastig want echt stil poseren was er niet bij. Na nog een paar foto's gemaakt te hebben, gingen wij terug naar ons atelier voor het echte werk.
Twee weken later kwam Özcan met zijn filmploeg langs om de vorderingen te bekijken. De onderschildering had ik klaar en in de weken daarna is het schilderij verder aan de hand van foto's uitgewerkt.
De locatie waar Terlouw zijn favoriete doek mocht kiezen was Museum Mauritshuis in Den Haag, direct naast Het Binnenhof. Bekend terrein voor de voormalig politiek leider van D66. In mijn portret herkende hij zijn blik het meest, hij wilde het graag mee naar huis. Eervol, hoewel 'winnen' natuurlijk niet het belangrijkste is. Over smaak valt immers niet te twisten. Bovendien waren beide andere portretten ook goed getroffen.
Meedoen aan dit programma was een leuke ervaring. Dank jullie wel Özcan en alle aardige mensen van Mediawater die Sterren op het Doek voor Omroep MAX produceren!
Meer werk zien? Klik hier.
Hieronder zie je wat sfeerbeelden van de opnames en mijn portret.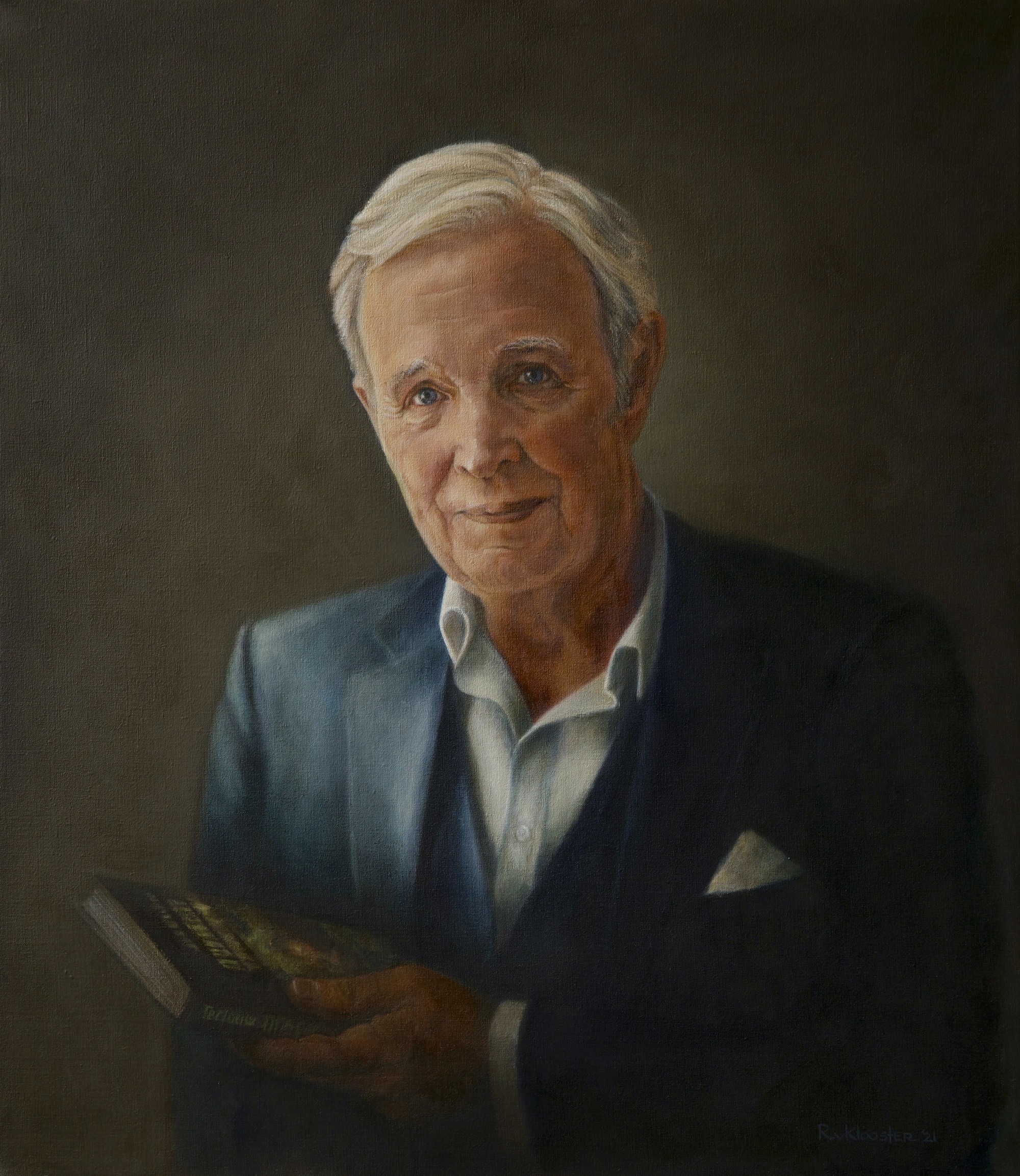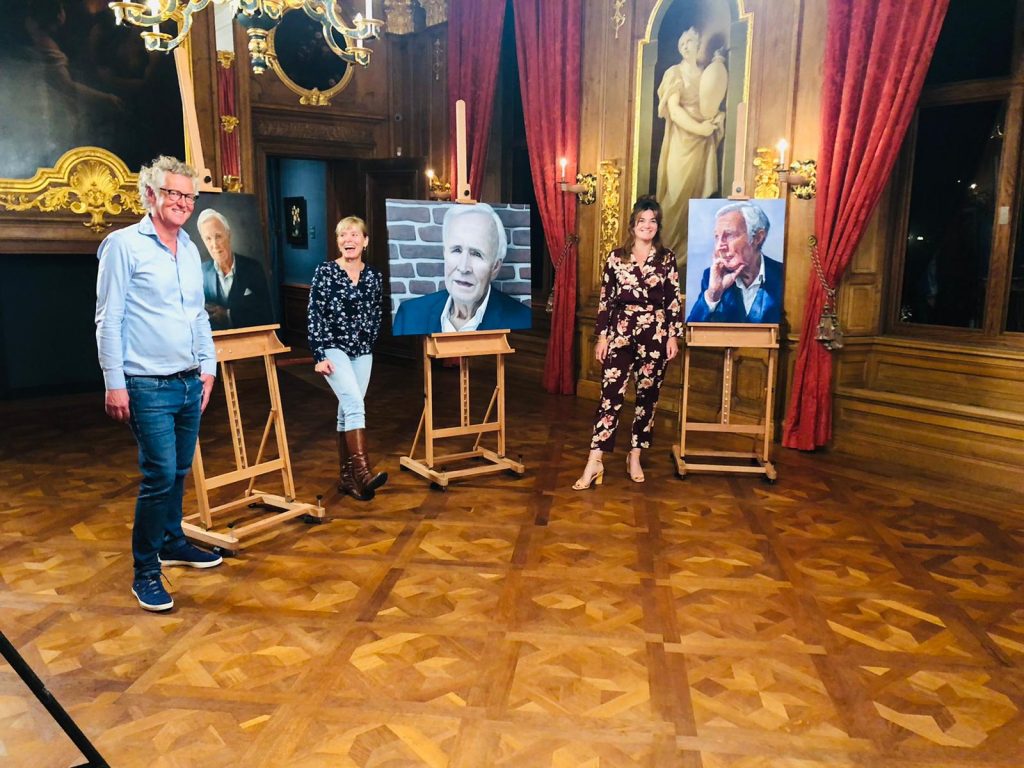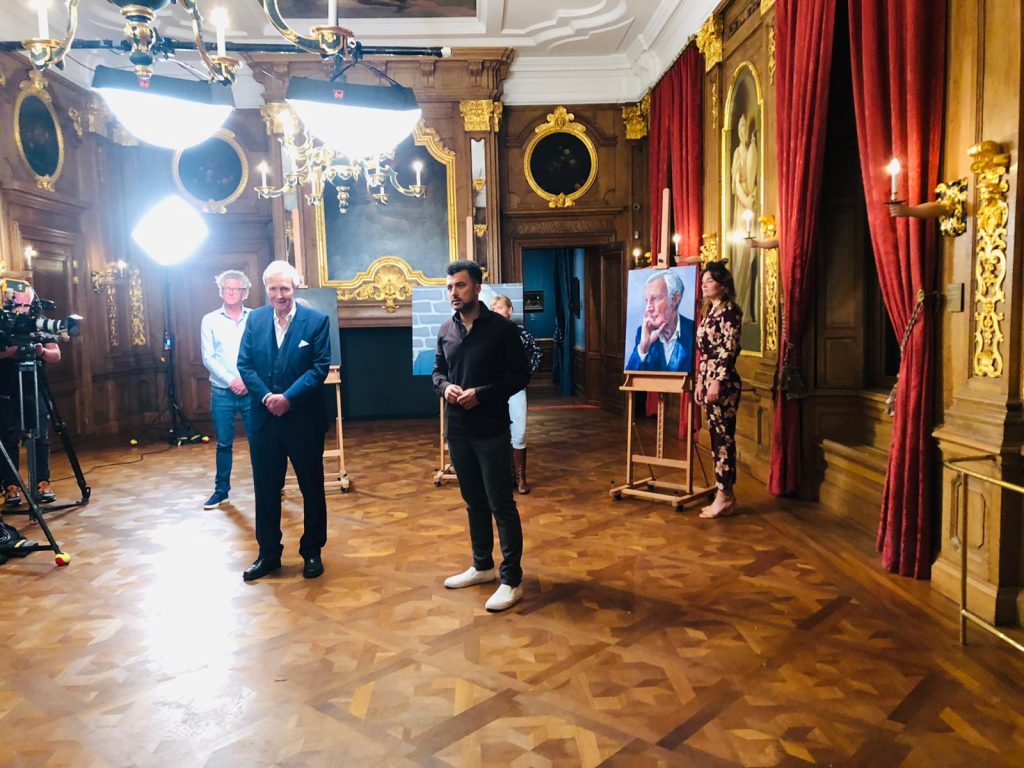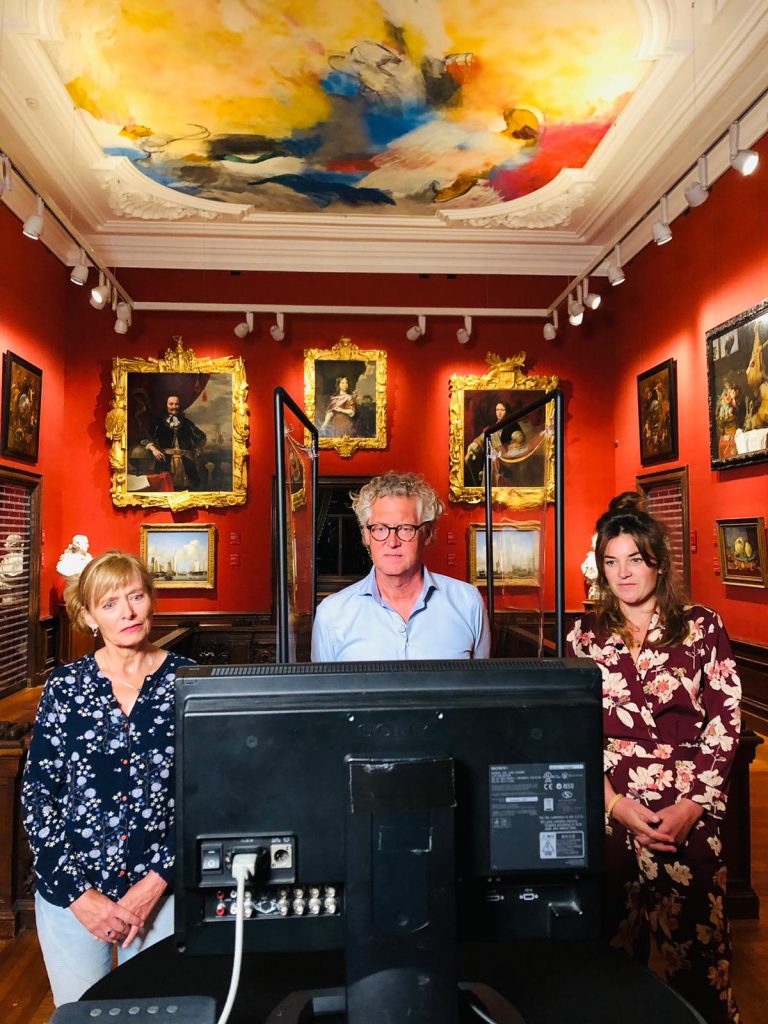 Stars on Canvas
During each episode of the popular TV show 'Stars on Canvas', a Dutch celebrity has his/her portrait painted by three artists. At the end of the show, the celebrity can take his/her favourite portrait home. The other two paintings are auctioned off, with the proceeds going to charity.
In the episode of 20 November, presenter Özcan Akyol interviewed the charismatic Jan Terlouw, at Rijnhuizen Castle in Nieuwegein. A superb location! This is where Jan worked, at the start of his career as a fundamental physics researcher. During his interview with Özcan, this multifaceted scientist, politician and author, talked about the beginnings of his authorship and the special relationship with his wife.
With fellow artists Pauline Koehorst and Sophie Vrolijk, I was on scene to study him and to capture him in drawings, in front of the camera. That was fairly difficult to do, because remaining still in order to pose was not an option. After having taken a few photographs, we each went back to our atelier, where the real work began.
Two weeks later, Özcan and his film crew dropped by to check on progress. By that time, I had finished the underpainting, and in the weeks thereafter the painting developed, using photos.
The location where Terlouw would select his favourite canvas, was the Mauritshuis Museum in The Hague, next to the Binnenhof. Familiar territory for the former leader of the political party of D66. My portrait was the one in which he recognized his outlook most, and he looked forward to taking it home. An honour, although 'winning' was, of course, not the most important thing. Because there is no accounting for taste. And the other portraits had both captured the man as well.
Being a part of this show was a joyful experience. Thank you, Özcan, and all the nice folks at Mediawater, who produce 'Stars on Canvas' for broadcaster MAX!